Specifications
Lambda antibody reacts with free kappa chains and kappa chains in immunoglobulin complexes
Staining pattern
Cytoplasmic staining is present in plasma cells, and in plasmacytoid lymphocytes
Cell surface membrane staining can be seen on B-lymphocytes (this pattern is less likely to be identified on paraffin sections, but is more easily identified on frozen tissue)
Since endogenous immunoglobulin is present in all human tissues, diffuse "background" staining is expected.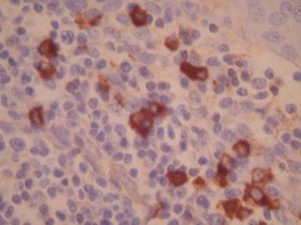 References
1. Wolf BC, et al: An evaluation of immunohistologic stains for immunoglobulin light chains in bone marrow biopsies in benign and malignant plasma cell proliferations. Am J Clin Pathol 94:642-746, 1990.