Specifications:
Bcl-6 transcriptional corepressor (BCOR or BCoR) encodes a protein which enhances Bcl-6 mediated transcriptional repression and is also involved in epigenetic silencing as a member of the polycomb repressive complex 1 (PRC1) via epigenetic modification of histones. BCOR is necessary for regulation of embryonic stem cell pluripotency and ectodermal and mesodermal development. BCOR immunohistochemistry can be used diagnostically to separate tumors with BCOR gene alteration (rearrangement or internal tandem duplication) other tumors with similar histology.
Staining pattern: Nuclear staining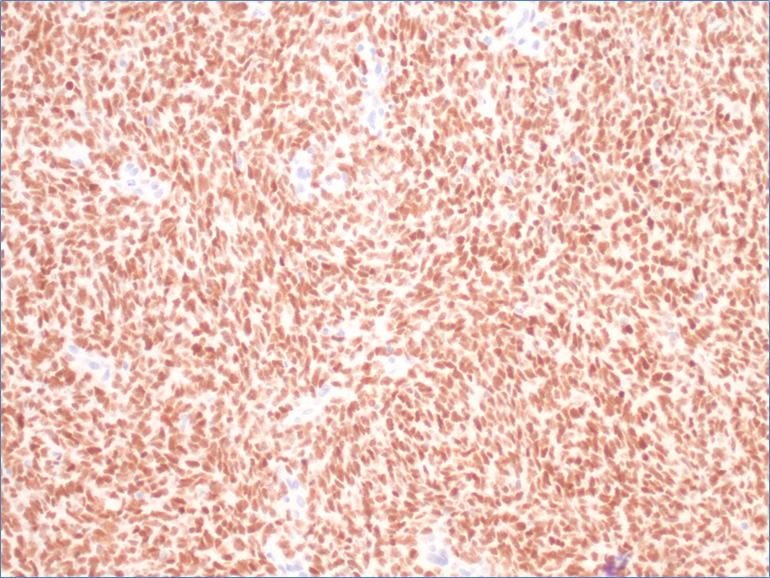 Applications:
BCOR positivity by immunohistochemistry has been reported in the following:
Strong diffuse nuclear staining has been reported in the round cell component of YWHAE-NUTM2 high grade endometrial stromal sarcomas (100% of cases)
BCOR positivity has been described in a subset of endometrial stromal sarcomas with ZC3H7B-BCOR or BCOR internal tandem duplications.
A minority of low-grade endometrial stromal sarcomas (6%) demonstrate weak positivity in less than 5% of tumor cells.
A minority of endometrial stromal nodules (6%) demonstrate weak positivity in less than 5% of tumor cells.
A subset of leiomyosarcomas (20%) can demonstrate weak to moderate staining in a subset of tumor cells (<5% to 40% of tumor cells).
Clear cell sarcoma of the kidney (100%)
Round cell sarcoma (positivity rates vary based on molecular abnormality present)
Synovial sarcoma (up to 50% of cases) and rhabdomyosarcomas (7%)
Spermatogonia within seminiferous tubules are positive for BCOR.
Tumors reported to be BCOR negative by immunohistochemistry:
Desmoplastic small round cell tumor
Myxofibrosarcoma
Ossifying fibromyxoid tumor
Angiosarcoma
Chondrosarcoma
Low grade fibromyxoid sarcoma
References:
Astolfi A, Fiore M, Melchionda F et al. BCOR involvement in cancer. Epigenetics 2019; 11(7): 835–855.
Chiang S, Lee CH, Steward C et al. BCOR is a robust diagnostic immunohistochemical marker of genetically diverse high-grade endometrial stromal sarcoma, including tumors exhibiting variant morphology. Modern Pathology 2017;1251-1261.
Kao Y, Sung Y, Zhang L et al. BCOR overexpression is a highly sensitive marker in round cell sarcomas with BCOR genetic abnormalities. American Journal Surgical Pathology 2016;40(12):1670-1678.