Influenza A/B PCR
Influenza A/B PCR-8810
September 28, 2021
Due to supply disruptions, the standard turnaround time (TAT) for Influenza A/B PCR testing (LAB8810) is currently extended.

For the next few weeks, until the supply disruption issue is resolved, turnaround times for Influenza testing is expected to be between 24 and 48 hours.
Nasopharyngeal (NP) swab collection:
Use the mini-tip NP swab included in the Influenza PCR collection kit.
Tip the patient's head back.
Gently insert the NP swab into the nostril parallel to the palate (not upwards) until resistance is encountered or the distance is equivalent to that from the ear to the nostril of the patient, indicating contact with the nasopharynx.

If any resistance is met in the passageways, do not force the swab; back off and try reinserting it at a different angle, closer to the floor of the nasal canal, or try the other nostril.

Gently rub and roll the swab for 10-15 seconds while the swab is in contact with the nasopharyngeal wall.
The CDC recommends leaving the swab in place for several seconds to absorb secretions.
Slowly remove the swab and place in the transport medium.
Break the swab shaft so that it fits into the medium container and recap tightly.
Label the specimen appropriately. Document the source "NP" on the label.
New England Journal of Medicine video on NP swab collection: Nasopharyngeal Swab Collection Video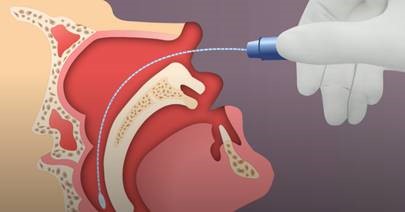 Influenza PCR collection kit
Improper label (unlabeled or mislabeled)
Swabs other than nasopharyngeal (NP) or nasal
Time delay between time of collection and receipt of specimen
Improper transport container
Improper transport temperature
Interfering substances
Inappropriate specimen type
Leaking container
Routine - 1 day
Stat - 2.0 hrs after receipt at AHL
Real-Time Polymerase Chain Reaction (RT-PCR)
When to order the Influenza A/B/H1N1 PCR:
Inpatients
ED patients being admitted
Seriously ill patients
Off season (June 1

st

– September 30

th

) when the Influenza Antigen test is unavailable for non-seriously ill outpatients.
If clinically indicated, consider the Influenza A/B PCR after screening with the Influenza Antigen if:
The Influenza Antigen is positive when the influenza prevalence is low (rule out false positive antigen test)
The Influenza Antigen is negative when the influenza prevalence is high (rule out false negative antigen test)